Barista Coffee Course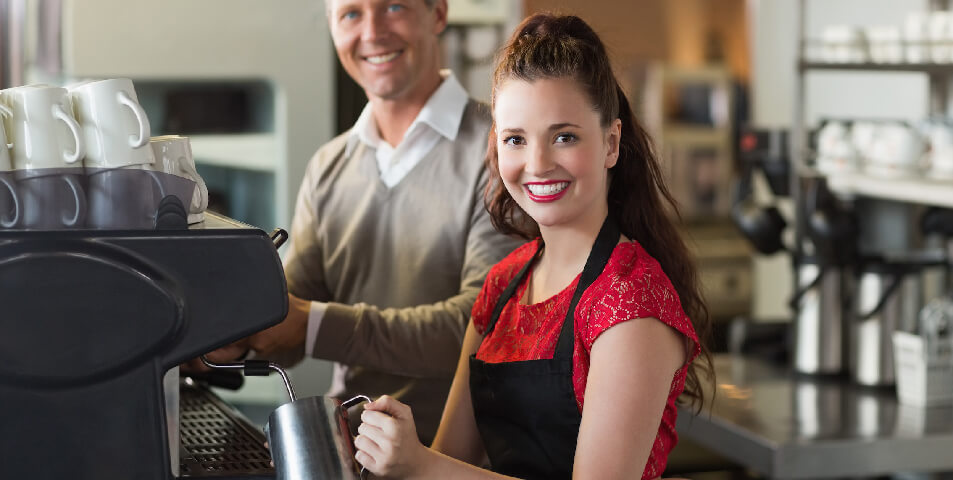 Course duration
This is a 2 day course, with midweek and weekend options.
Weekday: 9am – 4:30pm (Monday & Tuesday)
Weekday: 9am – 4:30pm (Thursday & Friday)
Weekend: 9am – 4:30pm (Two Saturdays)
Refresher classes: 4:30 – 5:30pm (Monday OR Thursday, dependent upon Trainer and classroom availability)
Study mode
Classroom – Face to face
Fees
Fee For Service
Outline
This practical training course and will teach you about:
Loading the group handle and tamping coffee
Adjusting the grinder and espresso machines to achieve perfect espresso
Advanced milk texturing
Latte art (poured and etched patterns)
Specialist coffee advice
Roasting
Blending
Safe food handling practices and much more!
Upon completion, you have the option to return for monthly free refresher classes to practice the techniques you learn during the course for up to six months afterwards.
Course
Melbourne's baristas have a global reputation for being among the most experienced, creative and technical in the industry. The standards set in Melbourne are often followed by the rest of the world. Melbournians are immensely proud of this reputation and, as a result, coffee is a bigger part of our culture than it has ever been.
Employers and customers alike demand the best from our baristas. They must have the technical skills and product knowledge required to meet the standards of Melbourne's voracious appetite for coffee. Our trainers know this, and they are here to show you what that passion is all about. Our goal is to prepare you to become a part of this vibrant coffee industry.
The best way to learn is to get hands on with the equipment. Our purpose-built coffee training room is filled with industry standard coffee machines, so you will have uninterrupted access to the coffee machines during the training. You will be grinding coffee beans, texturing milk and pouring every different type of coffee served by cafes and restaurants around Melbourne.
Once you've completed the Barista Coffee Course, you are invited to come back to the college to practice your coffee making skills, free of charge. This is an invaluable part of our service, a perfect way to brush up on your skills before an interview or to hone your coffee art skills.
What sets us apart from any other coffee courses in Melbourne?
Free refresher classes
We guarantee access to your own machine
You can make an unlimited amount of coffee
Our head barista trainer is a respected industry professional, he has run several cafes and loves to roast his own coffee
Access to our staff placement service
Outcomes
Graduates of the Barista Coffee Course will receive a statement of attainment for these nationally recognised units:
SITHFAB005 – Prepare and serve espresso coffee
SITXFSA001 – Use hygienic practices for food safety
Cost
The total course cost is $285