It shouldn't surprise anybody to find out that we're really interested in everything having to do with cocktails. What's great about them is that there's plenty of variety in liquors, liqueurs, mixers and garnishes that affect their flavour. Liquors are typically the dominant component in any cocktail, so let's look at some cocktails based on one of the world's most popular liquors: rum.
The Classic Daiquiri
The word "daiquiri" probably conjures images of a sickly sweet frozen drink made as cheaply as possible. That's a real shame, because the classic daiquiri, an elegant combination of rum, lime juice, and sugar, doesn't even remotely resemble that Frankenstein's monster of a drink. All you have to do is mix:
2 shots rum, light or gold
25 mL lime juice, fresh squeezed is best
Large pinch sugar
The Hot Toddy
A cool day calls for a nice, warm drink, and sometimes you'll want something a bit stronger than hot cocoa. A Hot Toddy fits the bill perfectly. All you have to do to make one is combine some hot tea, lemon, honey and liquor.
200mL hot tea
1 shot rum
15g honey
Dash lemon juice
Mojito
Bright, minty, and refreshing, nothing complements sweltering weather quite like a good mojito. While it has a lot more ingredients than most cocktails, making a mojito isn't difficult. First, you should muddle mint and sugar together just enough to release the mint's oils. Then, all you have to do is add the rest of the ingredients. Once it's mixed, you can add a twist of lime or sprigs of mint for decoration.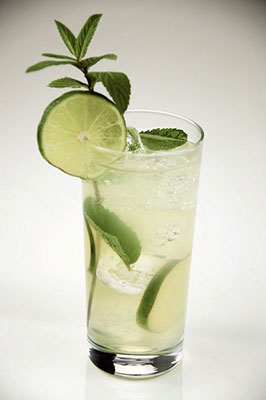 Mojito
10 to 12 fresh mint leaves
5g sugar
60mL white rum
25mL lime juice
Club soda to taste
Dark and Stormy
There are two reasons that everyone should be familiar with the Dark and Stormy. First, it's delicious. Second, it's one of the easiest cocktails to make. You only need two ingredients: ginger beer and dark rum. A little citrus is optional, but it can be a great addition.
2 parts dark rum
3 parts ginger beer
Lemon or lime wedge
There are plenty more rum-based cocktails out there, many of which don't even remotely resemble the ones we've just talked about. If you're a fan of rum, look up recipes for drinks like piña coladas, caipirinhas, and mai tais.
You might even find yourself thinking about bartending. If so, you'll need to learn both how to tend bar and the responsibilities that serving alcohol entails. Anyone who serves alcohol is legally required to take a Responsible Service of Alcohol (RSA course). Fortunately, we have both bartending and RSA courses at RSA Melbourne. If you're interested, check them out as soon as you can!