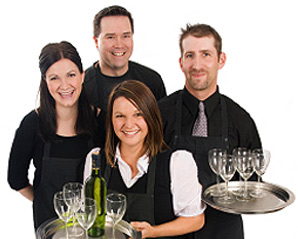 Certificate IV in Hospitality
| | |
| --- | --- |
| Course code | SIT40422 – Certificate IV in Hospitality (Release 1) |
| Course duration | 6 to 12 Months |
| Study mode | Classroom & Practical Placement & Self-Paced Training |
| Cost | Government Funded |
Outline
This course runs for 2 days per week for 18 weeks, then paid or unpaid practical placement for up to 36 weeks (minimum 5 hours per shift). Topics covered include:
RSA certificate (Melbourne)
Food handling certificate
Food safety supervisor certificate
Cocktail bartending skills
Barista coffee skills
Restaurant waiting skills
Beer, spirit, liqueur and wine knowledge, including tasting techniques
Leadership, management and operational skills in the hospitality context
Course
The course is delivered over a period of 6 to 12 months. The first 18 weeks of the course are delivered on campus in our state of the art training facilities located at 28 Elizabeth St, Melbourne 3000.
Upon satisfactory completion of the first 18 weeks, learners will be able to undertake practical placement in the industry where they will be required to complete a minimum of 36 shifts, usually at the rate of one shift per week. Due to the competency based nature of the course, the frequency of shifts may be altered if mutually agreed to by all parties. Such a change may also alter the delivery period of the qualification.
Learners will be required to undertake some self-paced learning, which on average will be up to 14 hours per week.
The program is fun, hands-on and ensures the safety of learners, allowing them to develop their skills in our safe simulated working environment before applying and consolidating their skills in the workplace. CHT Melbourne embraces a hands-on philosophy to training, as we believe the only way for you to learn how to do something is to do it yourself.
Classroom training
The first 18 weeks of the Certificate IV in Hospitality runs for 2 days per week, from 9am- 5pm. At different points in the year, we may also offer part-time weekend and evening options for this stage of the qualification.
The classroom curriculum includes all of the resources and practical, hands-on training necessary to find work in the hospitality industry, including comprehensive training in:
All bar operations
Opening and closing procedures
Cellar operations
Connecting and banking kegs
Cleaning and maintenance
Bar-room troubleshooting
Safety requirements
Beer pouring
Tray carrying
Cocktail making
Beer, wine, spirit and liqueur knowledge, including working with and tasting real products
Barista coffee making
Latté art
Advanced customer service skills
All aspects of food and beverage service
Leadership and management of people
Financial and operational foundations of hospitality venues
Once this is completed, students' progress to the practical placement stage of the qualification.
Practical placement
The final component of the course involves completing 36 practical placements of a minimum of 5 hours.  This can be either paid employment in a relevant position or as unpaid work experience.  It does not need to be completed all with one employer.
Practical placements provide students with:
industry and workplace experience
enhanced skills development
opportunities for practical application of industry knowledge
assessment of units of competency
enhanced employment and networking opportunities
These shifts provide students with a variety of opportunities to be able to apply their skills and gain some real-world experiences, in addition to completing the formal workplace assessment elements of the qualification.
Outcomes
Graduates who complete their Certificate IV in Hospitality will be competent in the responsible service of alcohol and food safety supervisor,  to go with their well-developed bartending, coffee making and food and beverage service skills. They will have the leadership skills to manage and lead others within a business, along with a grounding in the financial and operational foundations of running a leading hospitality venue.
The course structure allows for repeated practice of practical skills, continually building on existing skills to help develop both confidence and professionalism. The confidence and skills our graduates attain will allow them to operate independently or with limited guidance from others, and use their discretion to solve non-routine problems in the workplace.
Fees and Government Funding
| Tuition Fees (GST Exempt) | Cost |
| --- | --- |
| Full Cost | $3995 |
| Government Funded* | $0 |
| Concession | $0 |
| | |
* For full details of our fee structure, please see our Fee Schedule.
* This training is delivered with Victorian and Commonwealth Government funding.
Units of Competence:
| Name | Code | Type |
| --- | --- | --- |
| Provide responsible service of alcohol | SITHFAB021 | Elective |
| Operate a bar | SITHFAB023 | Elective |
| Prepare and serve espresso coffee | SITHFAB025 | Elective |
| Serve food and beverage | SITHFAB027 | Elective |
| Prepare and serve cocktails | SITHFAB030 | Elective |
| Provide advice on beers, spirits and liqueurs | SITHFAB031 | Elective |
| Provide advice on Australian wines | SITHFAB032 | Elective |
| Provide table service of food and beverage | SITHFAB034 | Elective |
| Plan and monitor espresso coffee service | SITHFAB038 | Elective |
| Use a computerised booking system | SITXCCS017 | Elective |
| Use hygienic practices for food safety | SITXFSA005 | Elective |
| Participate in safe food handling practices | SITXFSA006 | Elective |
| Work effectively in hospitality service | SITHIND008 | Core |
| Enhance customer service experiences | SITXCCS015 | Core |
| Manage conflict | SITXCOM010 | Core |
| Manage finances within a budget | SITXFIN009 | Core |
| Coach others in job skills | SITXHRM007 | Core |
| Roster staff | SITXHRM008 | Core |
| Lead and manage people | SITXHRM009 | Core |
| Monitor work operations | SITXMGT004 | Core |
| Implement and monitor work health and safety practices | SITXWHS007 | Core |
Enrolment:
To apply for this course or for more information please call on 0488 820 554.
* This Training is delivered with Victorian and Commonwealth Government Funding.
* For full details of our fee structure, please see our Fee Schedule.
* People with a disability are encouraged to apply. RTOID: (3722)