Whether you do it for business or pleasure, mixing cocktails is a great challenge. Knowing how to make the most popular cocktails—Martinis, Margaritas, White Russians, and the like—is important, but it can only go so far. If you want a cocktail that's perfectly tailored to your tastes, you'll probably have to come up with your own. There's quite a bit to know about how to design a drink, but you can invent a satisfying signature drink using these simple guidelines.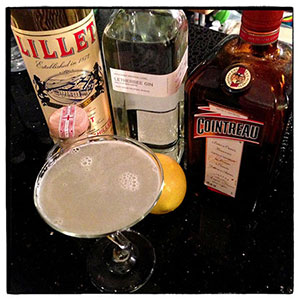 Corpse Reviver
Know Your Liquor
Spirits are the stars of any cocktail; they'll almost always dominate its flavour. You're going to be inventing a cocktail, so the best way to start is by choosing your favourite spirit or spirits, because those are the flavours that you'll be most familiar with. If you're not already completely sure, think about the cocktails that you like already or the liquors that you might choose to drink straight. You could even just taste a few liquors and look for inspiration that way.
Once you have your base liquor chosen, you should look at what mixes in well with it. For example, consider rum. It's one of the most versatile spirits around, as it mixes equally well with sweet, fruity ingredients like curacao liquer, grenadine, and fruit juices, and with bright and fresh-tasting but non-sweet things like mint and light-roasted coffee. It has a distinctive flavour, too.
Regardless of your liquor choice, the most important thing to do now is to experiment with different mixers and garnishes to figure out what tastes best. If you want to invent a signature cocktail, mix a lot of experimental drinks, and be creative! Choose a good tasting combination, and then improve on it until it's really outstanding. Always keep track of measurements, and when you find the right combination of ingredients and proportions, make sure to write it down and keep it somewhere safe.
Know Your Purpose and Your Audience
While you're working on your cocktail, keep in mind who you're mixing the drink for. A wild party or dance club won't call for the same kind of drinks as a formal dinner or a wedding. Emotions, expectations, and the appropriate level of drunkenness all differ in these situations. You probably shouldn't try to fit as much alcohol as you can into a drink for Nan's birthday (unless, of course, she asks you to). Basically, you should think about the context of the drink. If you're creating it for a private event, consider whether it will be served with food, how much you expect everyone to drink, the time of day people will be drinking and how much it's going to cost to make. If you're making it for work, then consider your patrons' tastes.
Hopefully we've set you on the right direction to start inventing cocktails. It's a lot of fun to do, and mixing a good cocktail is an impressive feat, so it's definitely a hobby worth pursuing. If you work in the hospitality industry, knowing how to create new cocktails can set you apart from the crowd and advance your career. However, it's hard to learn everything you need to know by experimentation alone. Maybe you could use a little guidance and inspiration. If so, then try out a class or two at RSA Melbourne. We teach several RSA (Responsible Service of Alcohol) courses in Melbourne, and we also teach straightforward bartending classes where you can learn cocktail mixing and a whole range of skills that are as handy for hosts as they are for pros.