Silver Service Waiting Course
Many people don't realise just how important the quality of service provided is to the overall restaurant experience. Yes, the food is a major component – but staff well versed in the best service styles with the tips and skills to match is an integral part of the greater whole.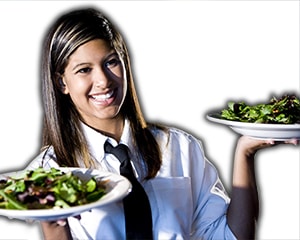 Service Waiting Course
That, in essence, is what the Silver Service Waiting Course from RSA Melbourne is designed to teach. It's a 'hands on' course essential for anyone who wants to gain the skills to become a better waiter or waitress, along with people looking for the foundation they can use to build a better career. Whether you're talking about bars or restaurants, casual or formal, or some other factor, this waiter-training course will help you keep patrons coming back time and again. Our waiter training course, coupled with other RSA courses such as the barista course and bartending course, will make you an attractive prospect for potential employers.
During the course, which is conducted in our purpose built training room, you'll learn more about a wide range of different topics, including, but not limited to, things like:
Customer Relationship Management
Serviette Folding
Taking the Order
Plate Service Etiquette
How to Greet Guests
Table Service
Sales Techniques
Silver Service
 Course Structure
The course runs over two consecutive days, from 9am to 3pm on the first and 9am to 12pm on the second.
To find out more information about this waiter training course, please feel free to contact RSA Melbourne today.