Whiskey is possibly the original cocktail liquor. In an earlier blog post, we talked about the world's first cocktail, which was most likely a drink called a 'Bitter Sling' or simply a 'cocktail'. Today, we recognise that drink as nothing other than the Old Fashioned, which is still one of the most popular cocktails in the world.
What makes whiskey such a great liquor for mixing is its unique but not overwhelming flavour profile. Sweet, woody, and sometimes a little spicy, whiskey tastes great on its own or mixed with other ingredients, exactly the kind of flavour you'd want in a cocktail. Considering whiskey's venerable place in cocktail history, here are a few must-know whiskey cocktails.
The Old Fashioned
Traditionally, you would use Bourbon or Rye whiskey in an Old Fashioned. However, if you don't have either of those, any sufficiently woody whiskey will do the trick, and it can be fantastic with Scotch. What's so great about the Old Fashioned is its simplicity. Whiskey, water, sugar, and bitters—there's nothing superfluous in there.
4.5cl whiskey
2 dashes Angostura bitters
1 cube sugar
A few dashes of water
Ice cubes
Manhattan
This is whiskey's answer to the Martini, but you'll see the influence of the Old Fashioned in the Manhattan. Vermouth, orange peel, and Maraschino cherries bring out the sweet and spicy notes of the whiskey, leaving behind the wood and peat flavours you might otherwise experience. It's great with Bourbon.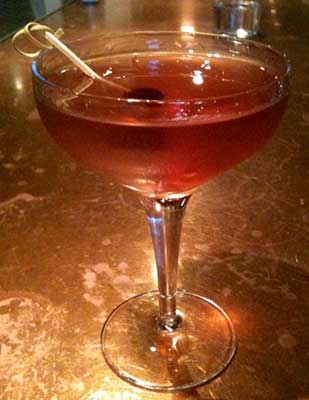 Manhattan Cocktail
2 parts whiskey
1 to 2 parts vermouth
2 dashes Angostura bitters
twist of orange peel
1 Maraschino cherry
Whiskey Sour
This one's a great twist on whiskey because you rarely see it paired with, well, sour ingredients. In this case, whiskey and sour are the only ingredients. Lemon juice is a pretty simple flavour, and although you might think it'd overwhelm the whiskey, it turns out to really bring a lot of its complexity. Plus, it's incredibly easy to make.
2 parts Bourbon whiskey
1 part (or slightly less) lemon juice
Small spoonful superfine sugar
Mint Julep
The Mint Julep is another great example of how versatile whiskey can be. A simple concoction of Bourbon whiskey, muddled mint leaves, sugar, and water, the mint julep really showcases a good whiskey well.
Note: We're using the International Bartenders Association definition rather than relative quantities in this one, because it's almost all whiskey.
6cL Bourbon whiskey
4 mint leaves (spearmint is ideal)
1 teaspoon superfine sugar
2 teaspoons water
In addition to knowing plenty about spirits, beer and wine, bartenders have to understand the laws and principles of the responsible service of alcohol, or RSA. Between all this, a bartender's shoes might look pretty hard to fill. Fortunately for you, we offer the RSA courses in Melbourne that you'll need to take in order to become a licensed bartender, as well as several courses in bartending and food service.