Did you know that the record for the most expensive cocktail in the world is held by a hospitality establishment right here in Melbourne? Southbank's Club 23 and bartender Joel Heffernan recently snatched the record from London's Playboy club and Salvatore Calabrese.
What do you think of an establishment that has the most expensive cocktail in the world on its menu? In most bars, the customers would probably view it more as a bad thing than a good thing. Most Melbourne cocktail lovers hope that it's not part of a general trend. However, high prices equal high status in some of our Melbourne watering holes. From the perspective of RSA Melbourne's alumni, a cocktail that expensive should come with a good tip. You can only hope that the buyer would be generous; he could certainly afford to be.
How Did They Do It?
The short answer is "very old booze," namely, two nips from a $157,000 bottle of 1858 Cuvee Leonie Cognac. Eighteen fifty eight Cuvee Leonie isn't just extremely well aged cognac, it's the vintage that Winston Churchill and Dwight Eisenhower drank together on the night before the D-Day invasion of France that turned the tide in World War II. That's why the cocktail is called "The Winston."
The Winston also contains Chartreuse "Vieillissement Exceptionnellement Prolongé," Grand Marnier Quintessence, and a splash of bitters. Finally, it is immersed in a dry ice mist infused with star anise, orange peel, lemon peel and angelica. However, the drink itself is just the final touch. The Winston also requires the services of several pastry chefs.
The presentation takes two days to create. It has a stylised, organic look, with a martini glass emerging from chocolate-nutmeg soufflé "soil" alongside twisting, hand-spun sugar vines decorated with berries. When the record was set, the whole thing, dry ice mist and all, was covered with a cloche and presented on an ornate silver tray. The cocktail's edible ornamentation was created by John Lawson, Dalmaine Blignaut and Mario Wischnewski of Mr Hive Kitchen & Bar.
But There Was a Catch
Although The Winston was reportedly set to be purchased by a New Zealand businessman named James Manning, he did not actually show up for the event. Someone else bought the drink, took a few sips and left the bar area. It's probably fair to say that none of the staff's Melbourne RSA training needed to be brought into play, as intoxication was unlikely.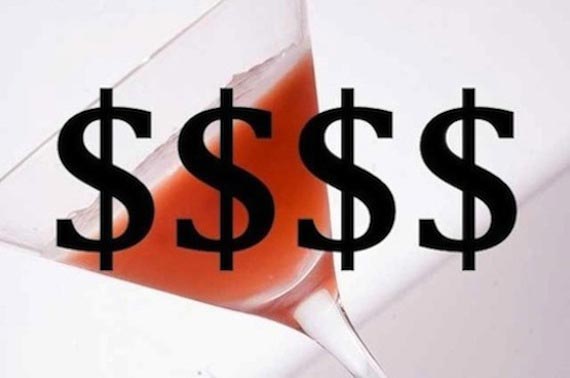 RSA Melbourne News Most Expensive Cocktail
What really happened? We don't know the details, but the drink is still listed in the Guinness Book of World Records as the most expensive cocktail ever created. Another burning question: what happened to the rest of it? Did the buyer drink it in private, did the staff or the owner have a go at it, or was it poured down the drain?
If you have $12,500 burning a hole in your pocket, then you may still be able to purchase one of 11 Winstons, which have to be ordered two days in advance to leave time for the presentation to be created. Alternatively, you can make your own bargain knockoff with with Cognac, Chartreuse and Grand Marnier.