Handling food safely and responsibly isn't as easy as it sounds. You have to watch out for all kinds of potential issues like temperature, other nearby foods and smells, common dietary restrictions and allergies and the possible presence of contaminants. Food hygiene and proper handling are essential parts of the food service and hospitality industries, and anyone working in those fields needs to know how to properly handle food.
Food Safety Certification for your Career
In our one day long Responsible Service of Food (RSF) course, you'll learn about key issues that affect food safety, how to monitor food in order to ensure it remains safe to eat, how to control food-related risks and how to spot food safety hazards during preparation and service.
Upon completion, you'll receive the 'SITXFSA101- Use Hygienic Practices For Food Safety' unit of competency, which is a government-recognised certification that confirms your knowledge of food safety. It's a typical requirement for working in food service. Even if your current or desired job doesn't explicitly require it, having this unit of competency could be helpful if food service or handling is one of your responsibilities. For instance, it could help you land a job in a hotel or bar.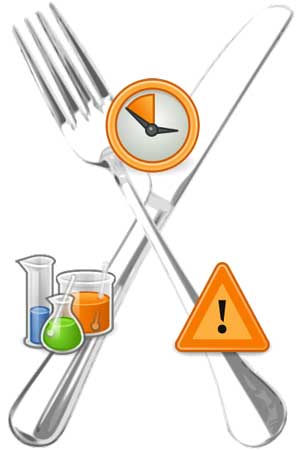 Food Safety
Food Hygiene Helps Everyone
Our RSF course isn't just for people who are looking for a job in food service. If you're simply a safety-conscious home cook, you should consider it, too. Lots of us develop unhygienic food habits, especially if we primarily learn cooking by trial-and-error or through cookbooks. After all,  proper food hygiene isn't really stressed on cooking shows or in cookbooks. Most of the time, you can get away with bad habits, but why leave it to chance?
The consequences of poor food hygiene may be relatively rare, but they can be very unpleasant. Taking one day to learn how to safely handle food will pay off by reducing your risk of food poisoning. If you've ever paid the price for thinking that you could get away with eating that questionable bacon from the back of the fridge, you know it's not worth it. Plus, you'll learn how to keep your kitchen clean through the right habits, which will save you a lot of clean-up time in the long run.
Pretty much anybody can benefit from taking some of our courses at RSA Melbourne, and learning how to safely handle food. It is such an important and easy to learn skill that it's a no-brainer: you should learn it. You'll be safer, healthier, and more employable if you know the ins and outs of food hygiene. It's not expensive and it doesn't take long, so what's stopping you from enrolling?