An indispensable mainstay of late-morning gatherings, the Bloody Mary takes a simple concept for a cocktail, a base of tomato juice and a little citrus juice mixed with vodka, and runs with it. Learning how to make a good Bloody Mary is an education in mixing unto itself (and we know something about educations in mixing). Depending on your intent, a Bloody Mary may call for a little Worcestershire sauce and Tabasco sauce, and maybe some ground black pepper, olive brine or even beef consommé!
The Basic Bloody Mary
First things first: how do you make a simple Bloody Mary, entirely free of bells and whistles? Just mix these up and serve it on the rocks:
3 parts Vodka
6 parts tomato juice
1 part lemon juice
Dash of salt
Dash of hot sauce
A Bloody Mary is typically garnished with a stalk of celery and a lemon wedge. Also, remember that it's perfectly acceptable to mix the first three ingredients and let your guests add salt, hot sauce and pepper to suit their tastes.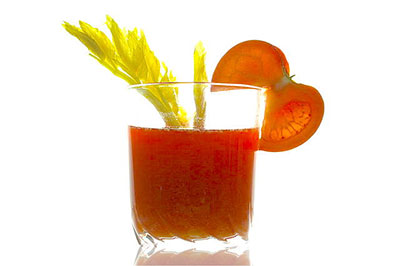 Bloody Mary
You can bet that a cocktail so customisable has a lot of well-known variations! Here are a few world-renowned favourites.
The Bloody Caesar
A Caesar, or Bloody Caesar, is Canada's favourite Bloody Mary variety, making use of Clamato Juice (a mixture of clam and tomato juices) and lime in place of lemon. It's imperative to use celery salt rather than regular! If you want to go all out, rim the glass with celery salt.
Bayou Bloody Mary
A Bloody Mary can be a meal in a glass if you want it to be, and this one certainly is. Hailing from New Orleans, Louisiana, a Bayou Bloody Mary includes horseradish, olives, string beans, and crawfish tails. You might be hard pressed to find a crawfish here in Australia, but prawns can do just as well.
Limitless Options
When it comes to getting creative with your cocktails, the Bloody Mary can be a boozehound's dream come true or an absolute nightmare. The tomato juice that makes up the bulk of a Bloody Mary is a remarkably versatile flavour that you can mix with almost anything.
Beyond prawns, charcuterie, bits of cheese and roasted vegetables of all sorts all have found their way into a well-loved Bloody Mary at some time or another. You might have to find a couple of mates willing to let you experiment on them, but let your imagination loose, and you can probably come up with a combination that hasn't been tried before!
That being said, take care that you don't drink too many of these! Like the bloodthirsty queen of England that this drink may or may not have been named after, cross Bloody Mary and she'll take your head.
And what will you do if your guests have all had a bit too much? That kind of situation shouldn't put you entirely off the sauce, but it is why anyone can benefit from taking an RSA course in Melbourne.